The following is material from a thread on Twitter posted by Michelle Malkin demonstrating teachers' violent abuse of children under the auspice of COVID "safety", taping their masks to their face with painter's tape. The thread was published October 18, 2021 and is background material for our article "CCP Virus Child Abuse By Communists In America".
THREAD: Forcing kids to tape masks to their faces is CHILD ABUSE. It's happening in my backyard in Colorado Springs, according to one family. I spoke this morning with Stephanie M., mother of Rylee, a 6th grader at Chinook Trail Middle School in District 20, pictured here.
/1
Stephanie rushed to Chinook Trail Middle School after her daughter texted her that a teacher gave her a warning and handed her blue painter's tape to seal the mask to her face. Rylee told her that at least 1 other student was also directed to do the same. /2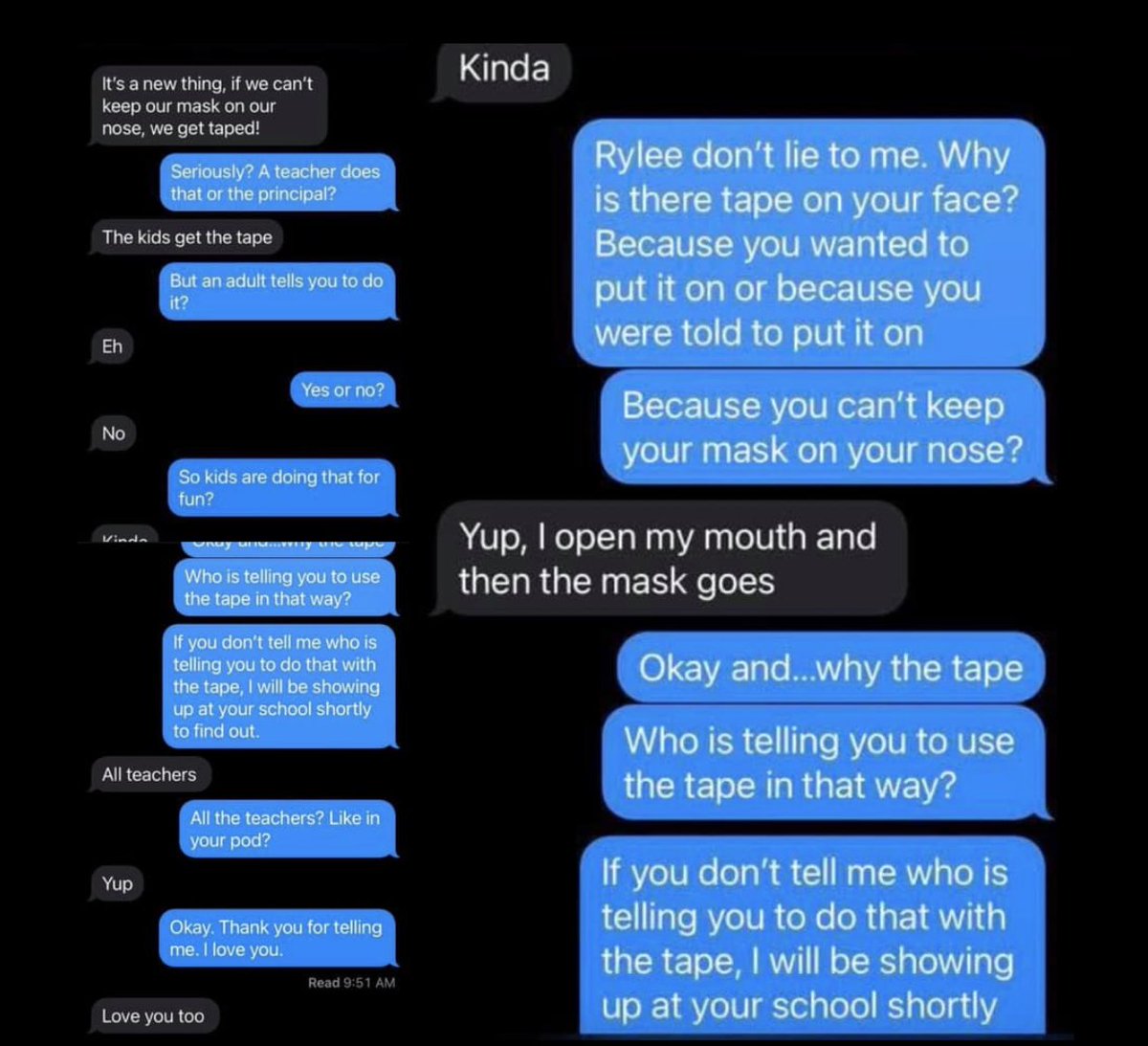 Here's a snippet of convo Stephanie had w/ Rylee & 2 school officials at Chinook Trail Middle School on 10/15, where Rylee describes the "warning" policy the teachers imposed as they handed out the tape to mask violators. Full 14-min audio coming./3
I have reached out to the Chinook Trail Middle School principal, as well as the District 20 superintendent Thomas Gregory. No response. Parents and 1 state rep. have pressed for a public parents' meeting on the mask mandate since late September. No response. @AcademyD20 /4
Stephanie pulled Rylee from Chinook Trail Middle School on Friday & has asked for an investigation. "It's wrong. It's child abuse," she told me. "And it was a horrible decision to implement the mask mandate" in the 1st place. /5
Here are the unanswered letters from Monument CO leaders & state Rep. @shane_sandridge pressing @AcademyD20 superintendent Thomas Gregory for a public meeting w/parents regarding the school mask mandate. /6
Colorado Springs @AcademyD20 isn't only district making students tape masks to their faces. This report shows that a teacher in Las Vegas did the same thing. HOW MANY KIDS IN AMERICA ARE BEING CHOKED OFF WITH MASK TAPE?? /7
Amen @Darcy4CO – thank you for standing up against COVID tyranny and the mask menaces! /8
"Investigation" now underway, acc. to D-20 statement e-mailed to me late yesterday. Here's a local news follow-up on the masking tape tyrants via @FOX21News. More to come – https://www.fox21news.com/top-stories/colorado-springs-school-district-investigating-masks-being-taped-to-students-faces/ /9
I asked El Paso County Health Dept for their opinion on taping masks to kids' faces. Here is their statement: "EPCPH has not been consulted about allegedly taping masks to children. EPCPH would not recommend taping masks." @AcademyD20 @FOX21News @Darcy4CO @shane_sandridge /10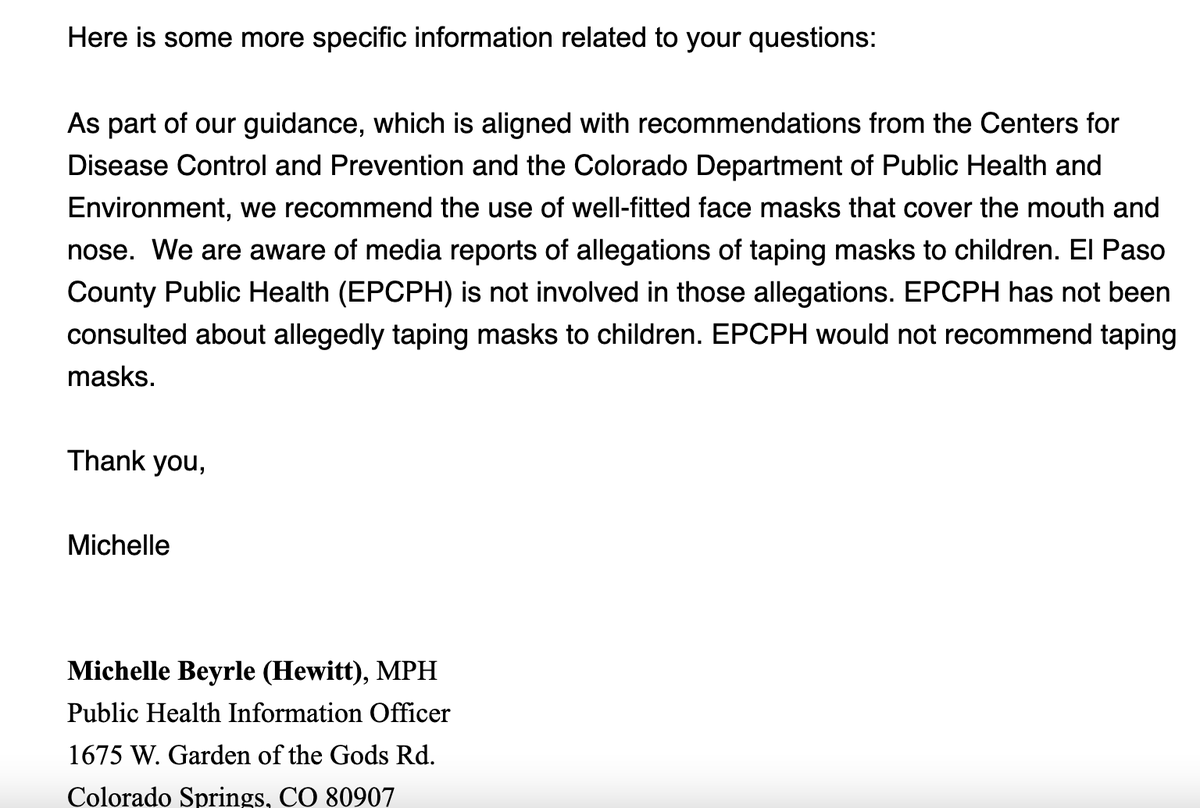 WHO'S CHOKING OFF YOUR CHILDREN? Middle school is the new Gitmo. But if you complain about mask torturers t a school board meeting, YOU will face the threat of arrest, not the child abusers! /11
https://www.unz.com/mmalkin/whos-choking-off-your-children/
KEEP RAISING YOUR VOICES, PARENTS! Needed now more than ever…
Meanwhile, in Canada…
https://twitter.com/TheMarieOakes/status/1453019857566511104
UPDATE: CHINOOK TRAIL MS ADMITS TEACHERS PRESSURED KIDS TO TAPE MASKS TO FACES. Issues weak apology. I've obtained audio of principal telling Rylee's mom today that discipline of abusive teachers will remain SECRET.
TIME FOR CRIMINAL INVESTIGATION.
They think they can just sweep this under the rug. Time for newly elected D20 school board members to STEP UP!
MORE AUDIO: Tom Andrew, Chinook Trail Middle School principal in D20 Colorado Springs, confirmed to Stephanie M., mom of 6th grader Rylee, tonight that teachers admitted they "compelled" kids to tape masks to their faces in violation of district policy,
Just as I predicted 3 wks ago, here is D20/Chinook Trail Middle School mask tyrants' attempt this a.m. to gaslight, cover up abuse & move on. The admitted abusers are still in the classroom, protected by the district. Rylee is the one being punished. @Darcy4CO @shane_sandridge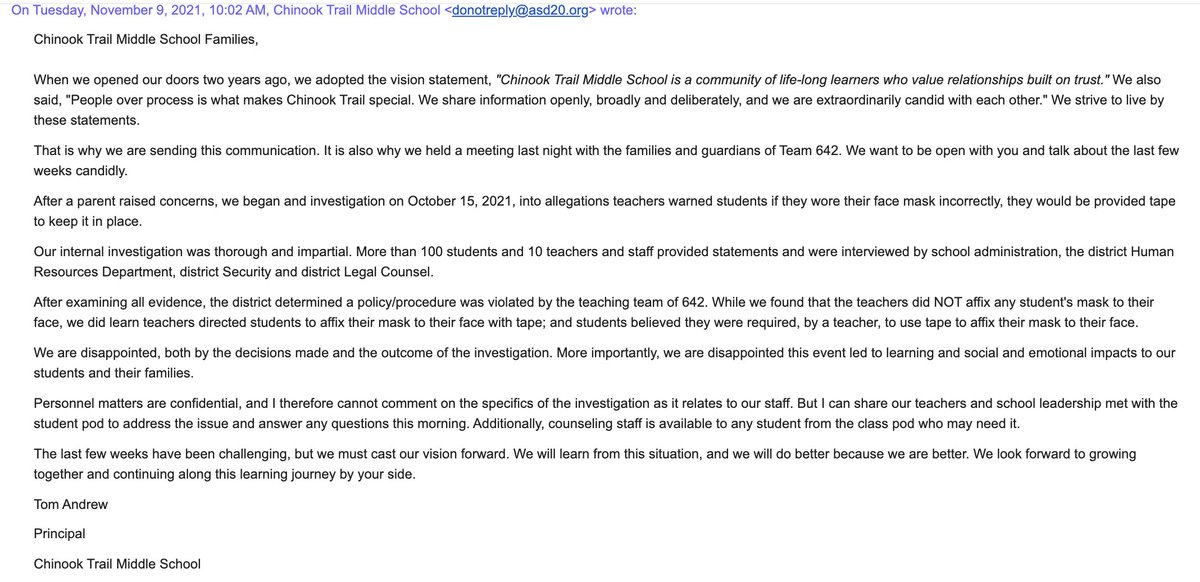 Originally tweeted by Michelle Malkin (@michellemalkin) on October 18, 2021.